SUNDAY EDITION | W.E.B. DuBois Academy ready to build on a successful first year | In-depth
If Amazon doesn't have a Whole Foods grocery near you, there are non-perishable groceries ( food that doesn't spoil) that Amazon can ship to you
LOUISVILLE, Ky. (WDRB) – William Rice Jr. had the blueprints for a go-kart he wanted to build laid out in his head late one evening and wanted to share his plans and his excitement about the project.
So, even though it was 10:32 p.m., the sixth grader at the W.E.B. DuBois Academy texted his principal, Robert Gunn Jr.
Gunn has given his cell phone number to the students at DuBois, hoping to be there for his kids when they need him – or when they just want to chat. For William, it's just one more reason why he wants to emulate his principal when he grows up.
"He helps others," William said, adding: "I want to be that type of person."
DuBois, where students refer to themselves as a brotherhood, is welcoming its second class of sixth-grade students when Jefferson County Public Schools starts the 2019-20 school year Wednesday. And there's plenty of room to grow after the school moved into a permanent space for the upcoming year. 
After starting at the Gheen's Academy building last year, the academy moved into the former Liberty High School building, which can accommodate more than 1,000 students and is far more expansive than the Gheen's site. The school also is poised to expand beyond its original vision as a middle school mostly for boys of color. JCPS Superintendent Marty Pollio said recently that a proposal for DuBois to add a high school program could be brought to a vote at the school board this winter.
What's more, plans are underway for a similar academy teaching science, technology, engineering, arts and mathematics to minority girls as early as next school year. The school board could approve that later this month.
For Gunn, he knew that his school's first year would be a success.
"Quite honestly there was never a doubt in my mind that we would be successful because we have the people who are willing to put in the work to ensure that we're successful," Gunn said.
"Every day was not easy. We go home tired each and every night, but when you are working your purpose and you're living out your passion and you're not worried about your position, then that just shifts the focus of what we're doing."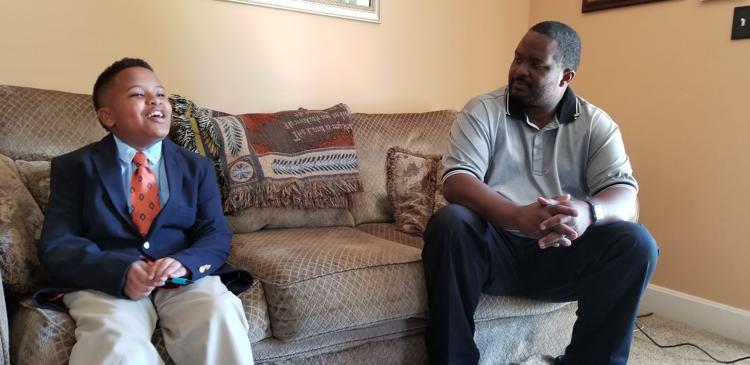 Yielding results
State testing results won't be available until later this year, but the sixth-grade class at DuBois showed plenty of potential in Measures of Academic Progress, or MAP, testing this past school year.
The school, whose student body was 86% black, saw its reading scores jump five points and its math scores improve by seven points over the course of three testing windows last year.
Those were some of the biggest increases among the 23 JCPS middle schools. For example, only three comparable schools had scores that went up by more than five points in reading and the school was among four others where students' scores went up by seven points in math, the largest gains through the 2018-19 school year, according to the district's testing results.
School and district officials told the Jefferson County Board of Education in May that 62% of DuBois students had met their growth projections in math and that 51% reached their reading growth projections.
But whether those results will foreshadow things to come when state testing results are released later this year isn't at the forefront of Gunn's mind.
"I don't know what the K-PREP scores are going to show, quite honestly," Gunn said. He called the 2018-19 school year "a baseline year" for DuBois. "But regardless of where we are this year, the thing that I guarantee parents and I guarantee everyone in the community is that we will continue to grow."
He's not just referring to the boys' academics.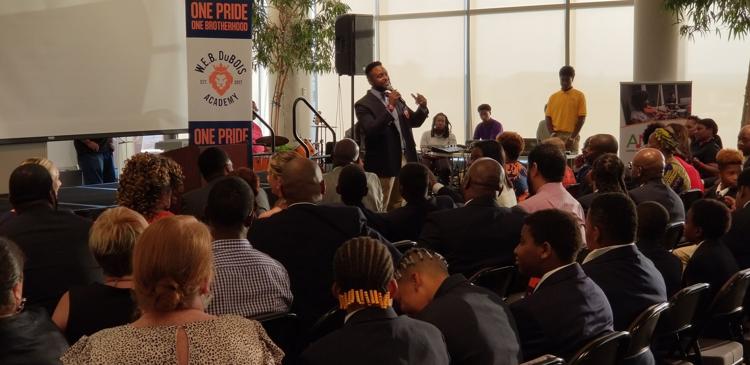 Jessica Dueñas – who worked as a special education teacher last year– says DuBois emphasizes character development for its students as part of its mission. That's apparent in the school's P.R.I.D.E. values, an acronym that stands for perseverance, resilience, initiative, discipline and empathy.
Throughout her 12-year teaching career, and particularly in special education, Dueñas said she felt "forced" to focus much of her attention on academic standards. That was compounded by the fact that some of her students arrived already lagging behind academically, which added the pressure of getting them up to speed.
"There would be no free time to actually build those relationships and help those students become better people, but I think that the big difference with the DuBois Academy is that there is that emphasis on becoming a better young man," said Dueñas, who was named Kentucky's 2019 teacher of the year when she worked for Oldham County Middle School. She will be a special education-related coach this year.
She believes building relationships with students and helping them develop socially gives DuBois kids the confidence they need to tackle subjects in the classroom that once seemed daunting.
"I feel like our students have been taught, 'You have to try. We're not saying you're going to be perfect the first time, we're not saying you're going to get it right, but you have to at least give it your best effort,' and so I think that they've really started to internalize that," Dueñas said.
That personal growth is something DuBois students like Jalen Dykes have noticed. He credits the school with making him a better public speaker, which he showed off during the school's tie-and-jacket ceremony for incoming sixth graders.
His message to incoming sixth graders is to face every challenge put in front of them.
"No matter what happens, don't shut down because as soon as you shut down, you're giving up," Jalen said before taking the stage. "Young lions," as DuBois students are known, "never give up," he said.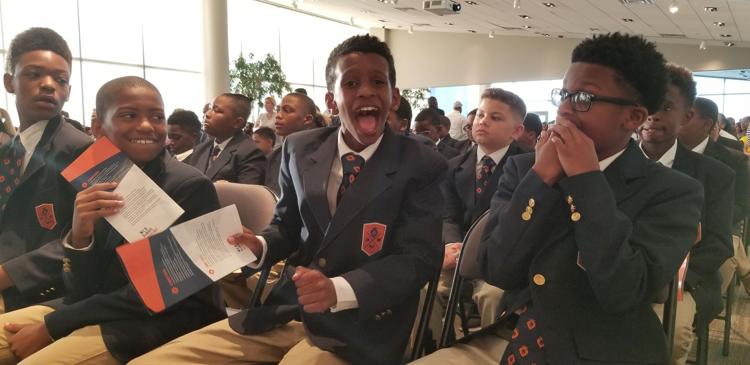 The Rices also noticed a difference in their go-kart obsessed son, William Jr. They saw his grades improve after the initial bumps that come along with transitioning to middle school and watched his confidence grow. William Rice Jr. never showed an interest in art before, but now they notice him making detailed sketches of cars and motorcycles in his free time.
"I feel like I can see more of his leadership skills coming out," said Corinne Rice, William's mother. "The transition to sixth grade was a difficult period because you have to work on organizational skills, you have to work on keeping up with everything, you have to work on working on multiple assignments because you have multiple classes."
His parents were floored when they found out that their son felt compelled to text his principal out of sheer excitement late at night – and soon established blocks of time when William could use his phone.
They were even more surprised that Gunn had given DuBois students his cell phone number at all.
"If you really think about it, has that ever happened before?" William Rice Sr. said. "Has any of your all's principals or teachers given you their personal number? And that right there, that says a lot. That really lets you know that he really does care about the youth."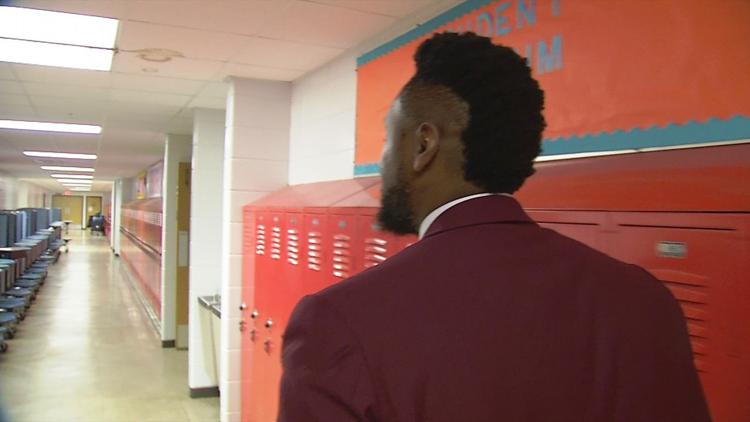 Others have noticed a difference in students at the school.
Tyra Walker, a special education teacher at Roosevelt-Perry Elementary who also sits on an advisory council for the district's racial equity plan, knows some of the kids who now attend DuBois and has kept tabs on them through a friend who teaches at the school.
She expected to see the kids grow and mature, but not nearly as fast as it happened. She chalks it up to a "mindset change" that's happening at DuBois.
"You can't change people until you begin to change the way they think," she said.
'This should have happened a long time ago'
Two things that set the DuBois Academy apart from other JCPS schools are its Afrocentric curriculum and its diverse teaching staff, made up mostly of teachers of color.
That means students aren't just learning about the accomplishments of those with African heritage, they're also learning from people who are more likely to look like them.
While the general thinking is that students will be inspired to strive for greatness after learning more about the accomplishments of others, DuBois teachers and staff act as mentors in their own way.
Gunn, the principal, views his students as his "sons." He said helping his students through difficult circumstances "mean the world" to him.
"That's how I look at this work," Gunn said. "It sounds cliché, but we are really trying to change the world. These young men are great. They are assets to our community. They are not deficits, and if we do right by them now, they will do right by us later."
The Rices, both of whom graduated from JCPS in the 1990s, say a school like DuBois has been needed in Louisville and Jefferson County for years. William Rice Sr., who graduated from Jeffersontown High School in 1995, wishes there had been something similar when he was a student.
"This should have happened a long time ago, a long time ago," William Rice Sr. said. "I don't think a lot of people really understand the effect that this is going to have on them."
"When I was in school, it's like the teachers, they were just there," he added. "I mean, of course they taught you, but they could care less if you learned or not. Either you get it or you don't."
Corinne Rice, who graduated from Butler High School in 1998 but also attended Male High School, says she had a teacher who once told her that she would never amount to anything.
"It made me feel horrible, and I wish I knew where she was today so I could take her my two master's degrees," she said.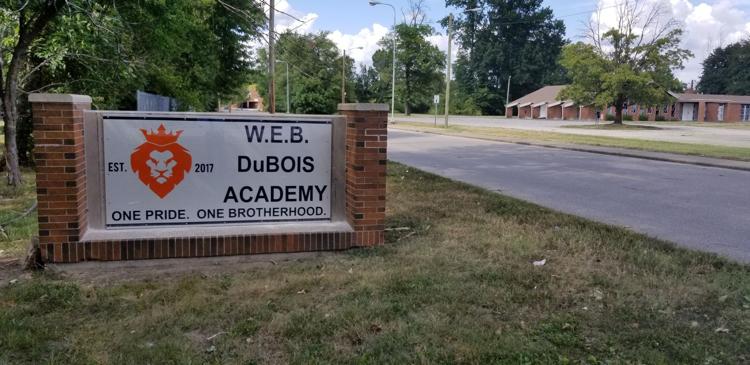 They and others who spoke to WDRB News fully support opening an academy school for girls of color.
The school board last week discussed possibly launching a program for middle and high schoolers that features a curriculum that emphasizes Afrocentric and gender-specific lessons.
Dueñas, the special education teacher, said a DuBois-like school for girls of color could help them deal with insecurities about their appearance, teach them how to better handle various life situations and give them the confidence to take on academic challenges.
"When you think about the experience of an adolescent girl, oftentimes there's so many insecurities laced with that and especially in a society that doesn't always mark young women of color as beautiful," she said.
"For a girl to see an example of a powerful woman who looks like her, again, is just that reminder that she too can overcome barriers, that there is no excuse, that with the right supports at school she too can be empowered to do whatever she wants to do when she becomes an adult," Dueñas said.
For Walker, the teacher who is following DuBois' progress, a girls of color academy would be "a complete game-changer" for students. Like DuBois students, she predicted that such a program would lead to a "mindset change" in how girls of color view themselves and their educations.
With the proposed girls' school offering classes through high school, that would likely usher in a similar expansion that has long been sought by supporters of DuBois, which is currently only set to grow into a standard sixth- through eighth-grade middle school.
Pollio said the board could see a DuBois expansion plan this winter.
That means students like William Rice Jr. could be among the first recipients of a DuBois diploma.
If he had his wishes, it wouldn't stop at his high school graduation.
"I want to stay there," he said. "I hope they extend it into college even."
Copyright 2019 WDRB Media. All Rights Reserved.
College Dorm and Apartment Cooking gadgets - if you change the sort settings on the Amazon page, it will show other items by price
Source link