Students welcomed back to The Woods | Local News
If Amazon doesn't have a Whole Foods grocery near you, there are non-perishable groceries ( food that doesn't spoil) that Amazon can ship to you
A lot of excitement, some teary-eyed parents and some mixed emotions flowed along The Avenue at Saint Mary-of-the-Woods College on Friday morning.
As new freshmen arrived on campus – some with parents and family, most with vehicles packed with move-in necessities – cheers of welcome came from college faculty and staff on both sides of the street at Indiana's oldest Catholic college.
President Dottie King greeted most vehicles herself, chatting through the windows and pointing out directions to the nearby LeFer residence hall.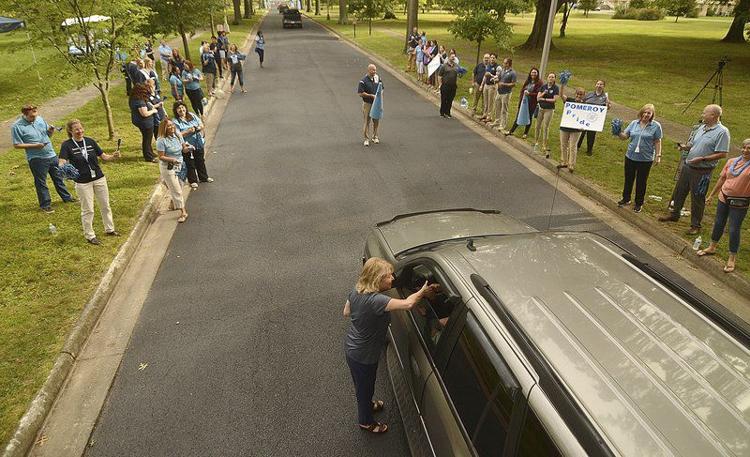 "We are really grateful to be growing," King said during a pause. "We have always celebrated the (arriving) classes, but there might be an added exuberance on our part to be watching The Woods grow," she said.
A faculty band played celebratory tunes. Several people blew soap bubbles into the air. Others had signs proclaiming Pomeroy Pride and Welcome. And several cheers and noisemakers resounded for each new vehicle.
New students arrived on campus in the morning, then attended orientation, a prayer service and a lunch gathering.
About 10 years ago, The Avenue celebration began with King and a few staff members greeting new students. It has turned into "a party" along The Avenue.
Among those moving into LeFer Hall with the help of her family was first-year biology major Jayla Rheams of Richland Park, Illinois.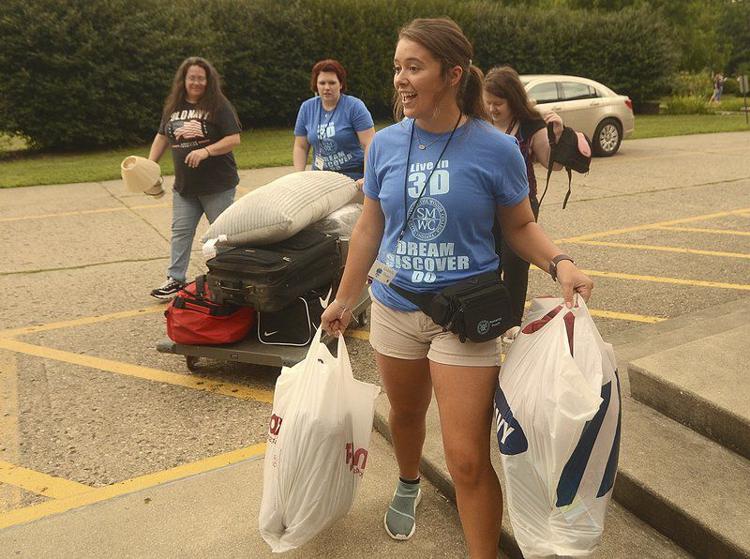 Her father, Patrick, said his daughter first considered Indiana State University, but then fell in love with The Woods on a visit to campus.
"She went to a small school of about 109, so she wanted to go somewhere small," Rheams said.
The family visited campus in early spring and "fell in love," he said. "We felt at home when we came, and so now we're back."
Total on-campus enrollment is expected to be 520, said Brennan Randolph, vice president for enrollment management.
This marks the sixth time on-campus enrollment has exceeded 500, he said, and that includes almost 200 new students.
This fall's total enrollment is the third highest since the start of the college, Randolph said, and will surpass 1,100.
Online enrollment has had a 30 percent increase, and the graduate programs are growing due to the master of science in nursing degree.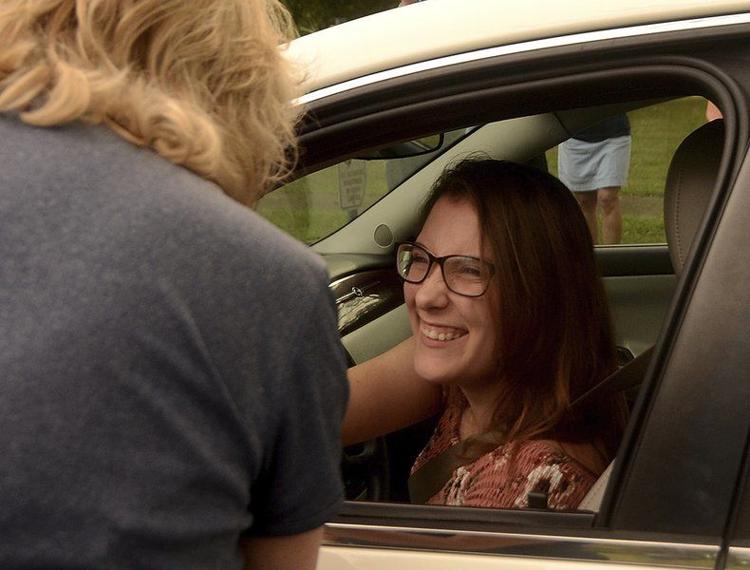 Last year's on-campus enrollment was 443 students.
About 25 percent of the new students residing on campus are male, he said, with about 75 percent women. The growth in male on-campus students is due mainly to athletics, Randolph said, noting that a new coed track program contributed to the increase in student athletes.
By 11 a.m., the welcome party ended and the focus shifted to orientation.
Randolph presented a box of acorns, one of the symbols of the college, to King as a symbolic gesture of the new students starting their college journey. By their graduation, those students will be oak trees grown at The Woods.
"It's a really emotional day," said Dee Reed, executive director of strategic communications, as she watched the new students drive onto the campus.
Some of the parents were wiping tears away. One father held up his cell phone to take video of the welcoming crowds. Many waved and laughed at the welcome.
Reed said alumni recognize the importance of the day, as well.
The Terre Haute Alumni Club baked cookies that were packaged for the students.
"We are a close community," Reed said. "There is a lot of support here for students, a lot of faculty and staff who care and want to make this college journey the best it can be for our students."
Lisa Trigg can be reached at 812-231-4254 or at lisa.trigg@tribstar.com. Follow her on Twitter at TribStarLisa.
College Dorm and Apartment Cooking gadgets - if you change the sort settings on the Amazon page, it will show other items by price
Source link