How one project is keeping College of Charleston students' trash off the streets | Features
If Amazon doesn't have a Whole Foods grocery near you, there are non-perishable groceries ( food that doesn't spoil) that Amazon can ship to you
Imagine a 4,200-square-foot ballroom filled from floor to ceiling with discarded household goods and clothing. Now multiply it by seven.
That's how much stuff College of Charleston students left behind when they moved out of their residence halls and headed home for the summer.
The items left piled high into large donation bins included hundreds of area rugs, full-length mirrors, plastic organizers, mattress pads, shower caddies and thousands of other items.
"Move-Out" was a 10-day donation event orchestrated by the Office of Sustainability and supported by various community partnerships, including Palmetto Goodwill and Charleston Mattress, to name a couple.
After students placed items they no longer wanted into the donation bins, it was up to a team of Office of Sustainability volunteers, interns and staff to sort the items, sometimes working over 10-hour days in order to get through everything.
Any useful items were donated to local nonprofits or low-income housing facilities.
While Move-Out generated donations for those in need, the project's goal is ultimately to be a zero waste operation. If this goal is to become a reality, students will have to shift their mindset, said Jennifer Saunders, the Office of Sustainability's zero-waste program manager and coordinator of this year's Move-Out initiative. 
"We need to have our own personal responsibility and accountability," she said.
Saunders mentioned the thousands of clothing items College of Charleston students left behind and the impact of fast fashion as a major global polluter. 
"There are all of these other effects that we don't think about because it's like, 'Hey it's a $5 shirt,' and who can resist that?" Saunders said.
Denise Fugo, an adjunct professor in the business school with the college, agreed. She helped establish many of the Move-Out community connections with the Office of Sustainability.
"They look at clothes as if they're disposable, and I think they feel comfortable as long as they put that plastic water bottle in a recycling bin, but then they don't think about anything else," Fugo said.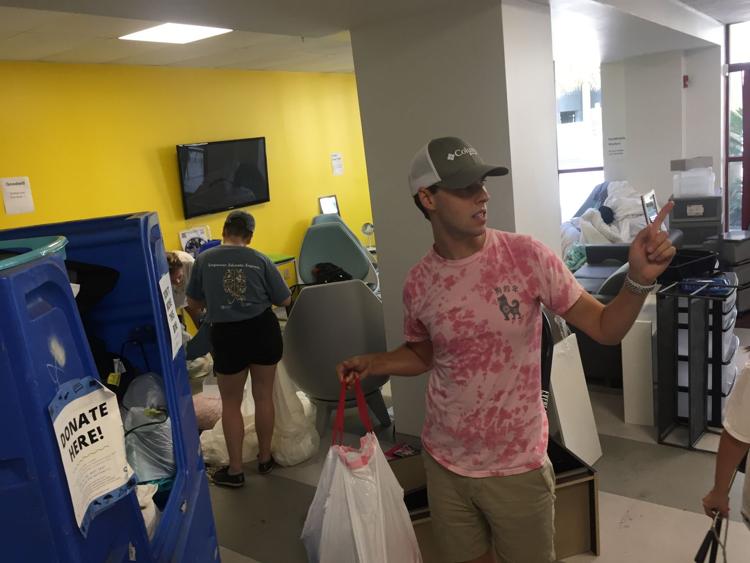 Volunteers found items as unusual as dirty dishes and wet towels in the donation bins.
"They're just throwing things in there. There are broken plates, there are broken mirrors, there's broken glass, that kind of thing at the bottom of the bins," said Trevor Leach, an Office of Sustainability intern who helped lead Move-Out.
"Take into consideration the fact that there are people, there are humans that had to touch all of their stuff. Maybe think about what should be donated and what shouldn't be," Leach said.
Saunders noted that part of the issue of student move-out waste might be related to what she called "offerings," or free items distributed on campus either via different departments within the school or outside organizations, but said that it also involves shifting students' attitudes.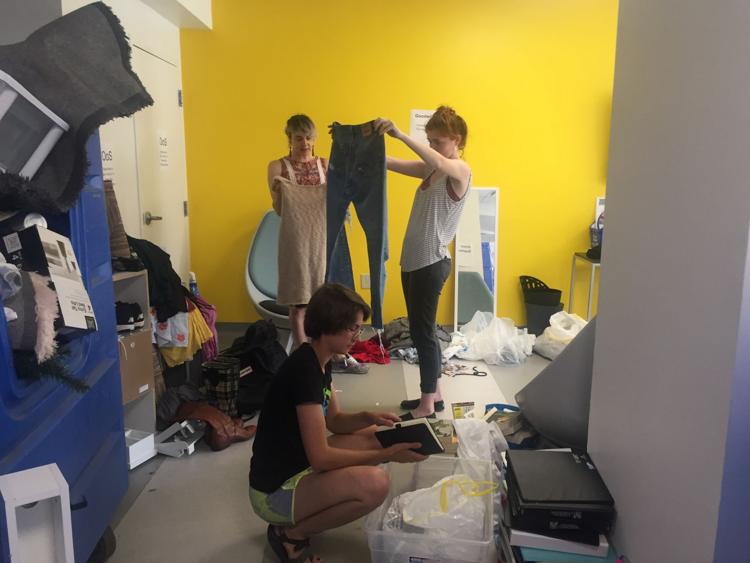 "We've gotta get it to where they stop buying or taking things that they don't need to begin with," she said.
Fugo is in the process of creating a three-year strategy that addresses some potential solutions to reduce student waste. The plan will likely include proposals to send letters to students and parents detailing exactly what items students actually need, installing permanent mirrors and storage bins inside residence halls and establishing community partnerships with the university.
Although some Charleston students already have moved out for the summer, a second wave of trash will hit the streets in late July, when many off-campus housing leases are up.
That move-out dumps old sofas and other larger furniture items on city streets. 
College Dorm and Apartment Cooking gadgets - if you change the sort settings on the Amazon page, it will show other items by price
Source link