29 College Dorm Room Essentials 2019 — Cute College Dorm Items
If Amazon doesn't have a Whole Foods grocery near you, there are non-perishable groceries ( food that doesn't spoil) that Amazon can ship to you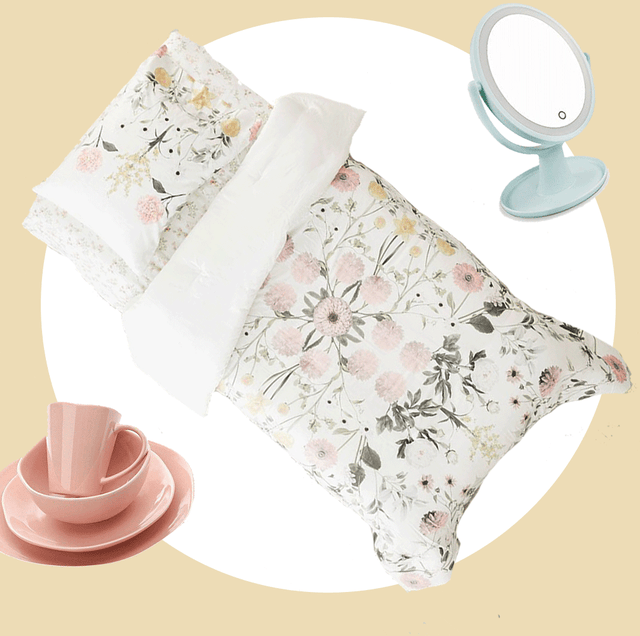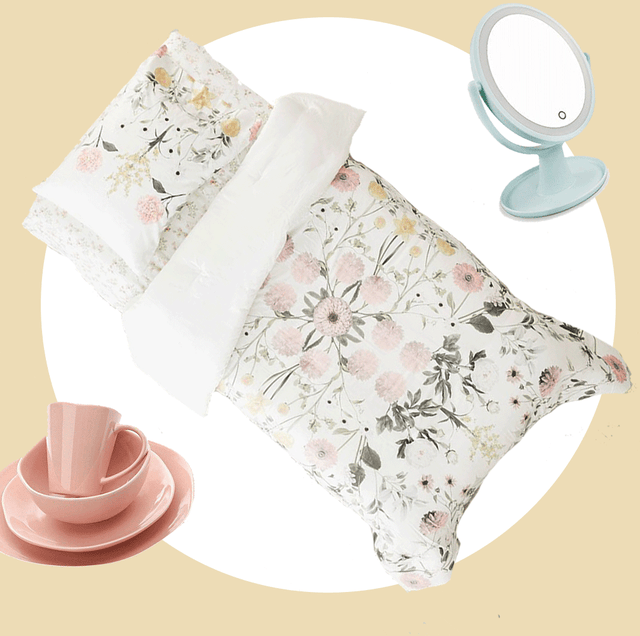 courtesy / esther faciane
Congrats, you're headed to college! Thinking about what to bring can seem *way* overwhelming, but we gotchu. Take a look at this list of essentials you'll need, including sheets, all the storage bins, and yes, shower shoes.
1
A Cute Shower Caddy
Rebrilliant, wayfair.com
$15.99
These make the trek from your bedroom to the communal bathroom so much easier. The dividers inside keep everything organized, while the holes allow for water drainage. 
2
A Pair of Shower Shoes
Old Navy, amazon.com
Speaking of communal showers, you'll wanna buy a pair of waterproof flip-flops. Trust me on this one. 
3
Fresh New Towels
Cotton Craft, amazon.com
$33.99
If there ever was a time to buy a pack of new cotton ones, going to college would be it. 
4
An Over-the-Door Shoe Rack
Simple Houseware, amazon.com
$9.87
These are a lifesaver when it comes to maximizing space in a tiny dorm room, and the transparent material means you can easily find the pair of shoes you're looking for. 
5
A Pretty Comforter Set
urbanoutfitters.com
$249.00
Floral twin-size bedding that comes with a comforter, fitted sheet, pillowcase, and even a matching tote bag will bring much-needed color to a drab dorm room. 
6
A Lightweight Sheet Set
Percale fabric is super soft and cool to the touch, like you're lounging in a hotel bed.  
7
A Decorative Throw Pillow
Laurel Foundry Modern Farmhouse, wayfair.com
$39.99
Spruce up your bed with help from a textured pillow. This shade of pink is so subtle that it'll complement just about any type of bedding. 
8
A Chic Bed Lamp
Want your room to feel more sophisticated? A lighting situation that features gold accents and a cool geometric shape is one you should def snag. 
9
A Minimal Dinnerware Set
LE TAUCI, amazon.com
You might not do tons of cooking in your dorm (depending on what your kitchen sitch is like), so a four-piece set that includes two plates, a bowl, and a mug is probably all you need. 
10
Brand-new Silverware
SHARECOOK, amazon.com
$19.99
And the above isn't complete without some silverware, of course. 
11
A Drying Rack
Cherish your dishwashers, people, because odds are you won't have one in your college housing. That's where this small yet useful dish rack comes in.  
12
Foldable Bins
Extra storage space is key when you don't have tons of square feet to work with. Collapsible bins are great for stashing under your bed, in the top of your closet…or really anywhere they can fit.
13
A Five-Piece Desk Organizer
Sorbus, amazon.com
$25.99
You'll definitely get use out of your desk area with all the upcoming tests, studying, and assignments. Keep everything in its proper place with a rose-gold desk organizer. 
14
A Rolling Storage Cart
Seville Classics, amazon.com
$49.99
This makes an amazing nightstand thanks to the flat top and impressive storage capabilities. And the wheels let you easily move it to any area in your room. 
15
A Makeup Organizer
Masirs, amazon.com
$11.99
Clean out your foundation-stained makeup bag, and trade it for a clear cosmetics organizer. It holds all your brushes and products and has cute little drawers. 
16
A *Lit* Vanity Mirror
THE D&B CRAFTS LLC, amazon.com
An LED swivel mirror will go with your chic new makeup situation. The stand also doubles as a holder for earrings, bobby pins, and other small items. 
17
A Collapsible Laundry Basket
Fold this baby flat when it's not in use, and pop it back up when you have dirty clothes to throw in. The leather handles are durable, and the size fits under any lofted bed. 
18
Nonslip Hangers
Home-it, amazon.com
$19.99
Never worry about your clothes falling on the ground again with these velvet hangers. (Yes, you can even throw your tricky off-the-shoulder tops on them.)
19
A Slim Trashcan
mDesign, amazon.com
$15.99
A narrow wastebasket will fit between furniture better than a round or wide one. You can subtly hide this one between your desk and your bed. 
20
An All-in-One Power Strip, Extension Cord, and USB Port
TESSAN, amazon.com
$16.99
Outlets are a nightmare in small living spaces, and you almost always need more. This extension cord offers three extras as well as three USB charging ports. 
21
A Set of Wire Panels for Wall Decoration
Love-KANKEI, amazon.com
Hang these up with Command hooks (more on those in a sec) and you suddenly have so many options for storage. Place a succulent on the flat wire shelf, hang sunglasses or necklaces from the hooks, or keep extra office supplies in these convenient grids. 
22
Tons of Command Hooks
Command, amazon.com
$9.31
Back to those hooks, which arguably are one of the most useful things to have handy in a dorm room. They can hang lights, handbags, towels, kitchenware, and more—and will save you floor space. 
23
A Stylish Area Rug
CosmoLiving by Cosmopolitan, wayfair.com
$36.99
Nobody likes stepping onto a cold tile floor when they jump out of their twin bed. A fun rug between your and your roommate's spaces will make your dorm feel so much more homey. 
24
Artsy Tapestry
Deny Designs, urbanoutfitters.com
$69.00
Cover up those blah concrete walls over your bed with a gorgeous tapestry. 
25
A Foam Mattress Topper
Dorm beds? Yeah, not the comfiest things in the world. For an easy fix to make yours feel more plush, place a foam topper between the mattress and fitted sheet. 
26
A Cooling Tower Fan
Honeywell, amazon.com
$59.99
Air conditioning might not be guaranteed (especially if you live in an older building), making a sleek and quiet tower fan a worthy investment.
27
Adjustable Bed Risers
Home-it, amazon.com
$17.99
If you need even more space under your bed and it doesn't loft high enough, get yourself these easy-to-use bed risers. 
28
An Elegant Storage Ottoman
Three Posts, wayfair.com
$79.99
If you keep so many of your things under your lofted bed, you might need extra help actually getting on it. This ottoman serves as a stepping stool but also comes with hidden storage. 
29
A Cozy Throw Blanket
Put the final touches on your bed by adding a fuzzy throw. You'll love cuddling with it when you're reading or taking a much-needed study break to catch up on Killing Eve. 
College Dorm and Apartment Cooking gadgets - if you change the sort settings on the Amazon page, it will show other items by price
Source link