20 Best Dorm Room Storage Ideas
If Amazon doesn't have a Whole Foods grocery near you, there are non-perishable groceries ( food that doesn't spoil) that Amazon can ship to you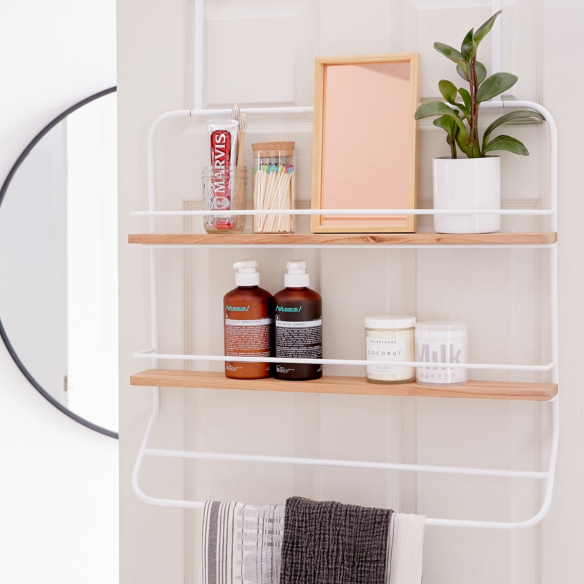 Urban Outfitters/Pottery Barn Teen
The biggest key to small-space living is simple: Organization. A tiny home—be it a house, an apartment, or a dorm room—often comes with a huge lack of storage, so as you're planning out your space, you need to find ways to add storage wherever you can. That means looking up (your walls!) and down (under the bed) for hidden storage potential, and stocking up on products to help you keep everything as organized as possible so that everything has a place no matter how small your room is. In a dorm room this can be especially challenging, thanks to cinderblock walls; limited, school-issued furniture; and a roommate or even a few to split it all with, but it can be done.
If you're moving in to a dorm this fall, or you're getting your future college kids ready for their first semester, these are some of the handiest dorm room storage products out there. From clothes to bath products to books and homework essentials, these organizers and storage ideas are here to help you turn your dorm into a functional space that feels like home.
1
Desktop Organizer Shelf
Jerry & Maggie
amazon.com
$24.99
Keep books, homework essentials, and decorative pieces neat and looking stylish on this desktop shelf, which comes in multiple colors and can be configured in a few different ways. 
2
Foldable Cube Organizer
amazon.com
Like fabric cubes, these can fold up when not in use, but unlike fabric cubes, you can stack them (without a separate cubby shelf) and slide them out like drawers—perfect for building a cubby system inside your tiny dorm closet.
3
Over-The Door Tiered Storage Rack
urbanoutfitters.com
$59.00
This over-the-door rack can be used for just about anything, from a bathroom organizer to wardrobe accessories and more—and it's a sleek upgrade from the usual door-hanging storage options out there.
4
XL Ultimate Bedside Storage
Hang this caddy over the side of your bed frame, and your phone, tablet, remote, journal, and whatever else you like to keep nearby while you're lounging have an easily accessible place to rest.
5
The Original Bedside Shelf
BedShelfie
amazon.com
$29.99
If a fabric caddy isn't your thing, and you find yourself wishing you had a nightstand, this little bedside shelf, which attaches to the bed frame, will do the trick. It comes in three colors (grey, pink, and natural wood) and can hold up to 15 pounds, so even a stack of textbooks is safe. 
6
Over Bed Shelving Unit
One of the easiest ways to fit more storage into your tiny dorm room? Go vertical by adding shelves over your bed. Use it to store things and show off your favorite decor, without worrying about mounting anything to the wall.
7
Stick-On Wall Bedside Shelf
You can also use the wall space next to your bed to add a stick-on caddy, which gives you a place to put your phone and anything else you need to store nearby while you snooze. 
8
Suprima Over-Fridge Rack
DormCo
amazon.com
Speaking of going vertical, this metal rack adds tons of storage above your mini dorm fridge and microwave, giving you a place to store snacks, pantry items, or whatever else you might need to stow away. 
9
Dorm Fridge Caddy
You can also add a fabric caddy (which doubles as an over-the-door solution) to your fridge by draping this organizer over it. It attaches with magnets, giving you a place to store cutlery and dishes.
10
Zip-Up Under Bed Storage Bags
If you're not using under-bed storage, you're not taking full advantage of the admittedly small amount of space you have in your dorm. A zipper bag with sections, like this one, lets you safely store off-season clothes and extra linens under your bed, without it getting dusty.
11
Rolling Wire Underbed Cart
Whitmor
amazon.com
$19.99
For items you want to store under the bed but use frequently, go with a rolling underbed cart—it'll make grabbing those pieces and putting them back a total breeze, while still letting you use as much space under your bed as possible. 
12
6-Tier Cloth Hanging Shelf
If you don't have a dresser in your dorm room or anywhere else for folded clothes, hang a cloth shelf system like this one from your closet rod to create one alongside your hangers—it keeps the floor space free, so you can store shoes or luggage there. 
13
Foldable Cloth Storage Box Set
Organize your dresser or closet further with these fabric storage boxes, which help you divide up your drawers and keep things separate—key when you maybe only have two dresser drawers, and don't want your socks mixed up with your t-shirts. 
14
Adjustable Drawer Dividers
mDesign
amazon.com
$17.99
Another way to section off your dresser drawers? Add in these adjustable, extendable dividers to create designated spaces for everything you need to store inside. 
15
Metal Over-The-Door Shoe Rack
urbanoutfitters.com
$59.00
If you have a bigger shoe collection, you're going to need an over-the-door shoe rack—a floor rack, unless you have tons of space, just won't cut it. This rack fits 18 pairs of shoes and can be places on your closet door or the back of your dorm door. 
16
Plastic Portable Bath Caddy
mDesign
amazon.com
$22.99
One of the most important things to score before you go off to college? A bath caddy, for toting your shower essentials to and from the shared bathrooms. This one, made from shatter-resistant plastic, comes in five colors (including a clear option) and features six compartments to make organizing your stuff super easy. 
17
3-Tier Rolling Cart
If you have the space for it, a sleek utility cart like this one gives you space to store whatever you want: Pantry essentials, books, bath and beauty products—you name it. Plus, you can move it around as often as you'd like, since it's on wheels. 
18
Storage Mirror
Room Essentials
target.com
$37.49
If you're getting a full-length mirror for your dorm, don't just go with any mirror. If it's going to take up space in your tiny room, make it work harder by adding a storage component, like this one that opens up to reveal space for your jewelry inside. 
19
Leni Leaning Mirror
urbanoutfitters.com
$149.00
Or, go with a leaning mirror that features hooks for your bags, scarves, and other accessories. This option comes in black or white, features three hooks and two bars you can hang  or drape things from.
20
Organize-It System
Add a little more storage to your wall with an organizing system like this, which you can customize and add shelves, caddies, white boards and chalk boards, books, cork strips, and more. Perfect for the space above your desk, or right by the door to your room. 
College Dorm and Apartment Cooking gadgets - if you change the sort settings on the Amazon page, it will show other items by price
Source link